I love this book, Our Thoughts Determine Our Lives: The Life and Teachings of Elder Thaddeus of Vitovnica
. My one regret is that I did not buy it a year ago when it popped up as a recommendation from Amazon. This book is so deep…so wide in it's wisdom, counsel and just plain 'ol good sense that I can already tell you I will need more than one post to share it with you as a Book Club Time book. It will also become a constant source of inspiration and encouragement, always within reach like my Bible
and The 4:8 Principle: The Secret to a Joy-Filled Life
. Let the sharing begin!
Book Club Time: Our Thoughts Determine Our Lives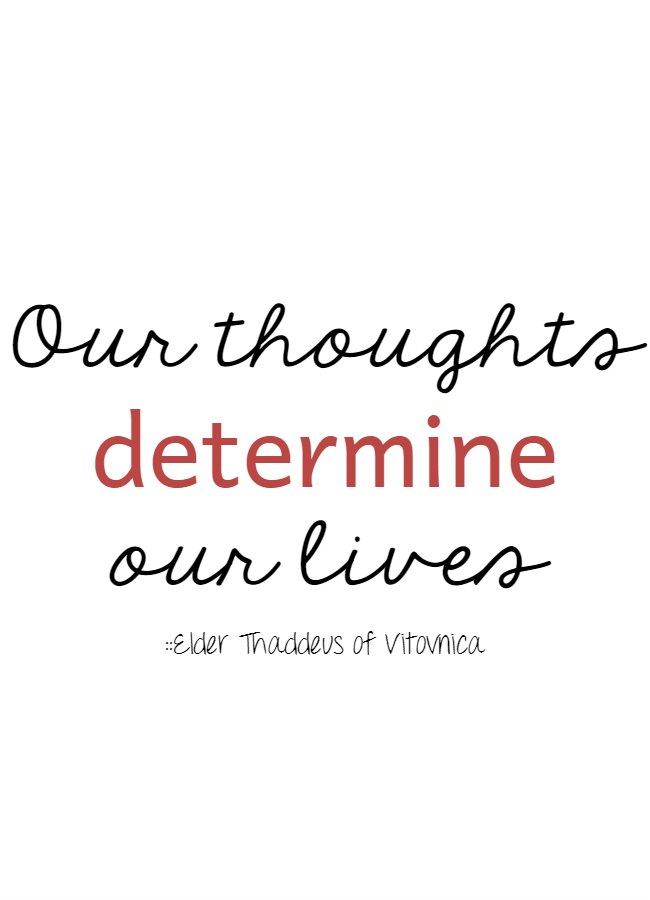 I'm not really sure how to put this without sounding weird…I do know that I pray to be a "thoughtful and sincere writer, using the words of my mouth and the meditations of my heart to please God and bring Him glory;" so here it goes. I sometimes "feel" like I need to read or watch something of a ferocious intensity to snap me back into "feeling" mode. Does that make sense? But those stories of such intensity only cause my thoughts to spiral downward instead of upward. Are you following?
(This is an all new realization to me, so if you're not following, I may not be explaining it well enough since it is so new to my own thoughts.)
For example, sometimes I need a story that touches my deepest fears to remind me to live and more importantly, to live well; like reading about a wife and mother battling an aggressive cancer. But these same stories can scare me, cause me extreme anxiety and I lose my peace of soul and mind. A backfire if you will.
You see, my rubber band mode of operation I use to snap me back into "feelings" of gratitude and joy is fatally flawed, spiritually immature means of living.  Are you starting to catch on to the problem?  I'm basing too much on my "feeling."
"A person who is entrapped in the vicious cycle of chaotic thoughts, in the atmosphere of hades, or has only so much as touched it, feels the torments of hell. For example, we read the newspapers or take a walk in the streets, and afterwards we suddenly feel that something is not quite right in our souls; we feel an emptiness; we feel sadness. That is because by reading all sorts of things, our mind becomes distracted and the atmosphere of hades has free access to our minds."
—Our Thoughts Determine Our Lives: The Life and Teachings of Elder Thaddeus of Vitovnica
So let me explain how I see this…It's not that I'm not "feeling" anything…I'm just not "feeling" chaos. Emotional and mental chaos are so familiar, that when I am in a state of peace, I think I'm not "feeling" anything.  Again, see, I let my "feelings" determine my state.  A big no-no, a sure sign of spiritual immaturity and a really crummy way to live–this constant emotional and mental roller coaster based on "feelings."
I would read these heart wrenching stories (still do sometimes through bad habit–again, this is a new realization to me), upset myself to tears, emotional and mental distress and call it good because I was so moved to tears–but then struggle for hours, days or weeks trying to stop thinking and "feeling" the very "feelings" I stirred up.
Now, does this mean I cannot read stories of women like me who struggle or are fighting for their lives? Not necessarily. It does mean I need to know going into it what will happen to me. I need to realize the precipice I place myself on and that being moved to tears, for me, doesn't mean I'm finally "feeling;" it means I've opened a door of torment.
I have a very sensitive and tender heart–good things. But for me–my temperament and personality–I can easily be enveloped in the sadness and distress of the sufferings of another. My thoughts change very easily and quickly from empathy to anxiety. Some of this is just how I have been formed all these years, but some of it is an "easy button" for the enemy.
"Because of the Fall of man, the natural order of things has become chaotic…In order to reestablish this order, we must practice abstinence."
—Our Thoughts Determine Our Lives: The Life and Teachings of Elder Thaddeus of Vitovnica
In order to regain "order" in my heart, mind and soul, I have to abstain from watching, reading or listening to the real life stories of real live people suffering. I have to intentionally and constantly be vigilant about what I allow into my mind through my senses.  I have to live a life of obedience verse a life of "feelings."
In my prayer journal, I specifically pray, "This day will go according to my attitude and thoughts…I pray I am intentional about the influences I allow into my heart and mind today. I ask for a deep love of whatever is true, honorable, just, pure, lovely, gracious, excellent and worthy of praise. I will not allow room in my thoughts, words or deeds that are contrary to the above standards…Teach me to be mature enough in my faith to know our relationship is not based on my feelings alone."
I'm going to end with that prayer for now.  There will be more posts coming ruminating on the illuminating words I have been reading from Our Thoughts Determine Our Lives: The Life and Teachings of Elder Thaddeus of Vitovnica
for our Book Club Time.